Neck Pain From Sleeping – Your Pillow is a Key Factor!
by Julie Donnelly, The Pain Relief Expert
"What causes neck pain from sleeping?"  is a question I'm asked over and over. I think it's important to go into this question in depth. If you have neck pain, or you suffer from ringing in your ears, dizziness, or ear pain, there is a good possibility that it may be caused by the way you are sleeping. Your pillow could be the culprit!
To Prevent Neck Pain From Sleeping, Your Head, Neck, and Spine Must Be In Alignment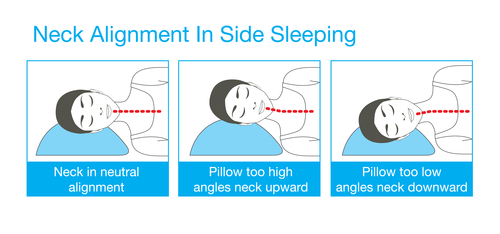 The thickness of your pillow is a key to preventing neck pain from sleeping.
If you sleep on your side, and your pillow is too thick, your head is tilted up toward the ceiling for hours. If your pillow is too thin, your head is tilted down toward the mattress for hours. You will have neck pain from sleeping, and you may never consider your pillow as your problem.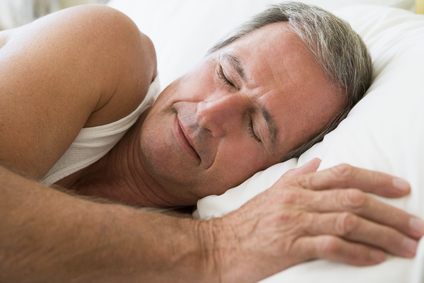 Take a look at this picture and it will be clear. He is lying on his left side and his pillow is too thick, so his head is leaning up toward the ceiling.  The muscles on the man's right side are shortened in order for his head to tilt in that direction. As you can see the left side of his neck has lengthened.  As he holds this position for hours the muscles on the right side of his neck will keep getting tighter.
Then he turns over in his sleep, the shortened right side muscles are now being stretched. However, the spasms are preventing the right muscle from lengthening and his cervical vertebrae are being pulled out of alignment. The misalignment is putting pressure on his spinal cord and all of the nerves in his neck.
This is what is happening to you if your pillow is too thin or too thick.  If you also slightly turn your head to one side or the other you are contracting another important muscle – the sternocleidomastoid (SCM for short).
Your SCM originates on your collarbone and inserts into the bone behind your ear. When your SCM contracts you turn your head to the opposite side. If you have your head even slightly turned as you sleep, your SCM shortens. When you bring your head back so you are facing forward, the tight muscle will pull on the bone behind your ear and cause havoc. As the tight SCM is pulling, it causes a strain on the tiny bones inside your ear.
Sleeping with your head turned may cause:
pain,
tinnitus,
dizziness,
loss of equilibrium,
headaches,
pain in your eye and around your skull,
pain at the top of your head,
and even pain in your throat.
Amazing! Although it's rare that this muscle is considered when a medical professional is searching for the cause of your symptoms.
If you sleep on your stomach with your head turned, these symptoms may be even greater.
Neck Pain and Headaches Caused by a Forward Tilted Head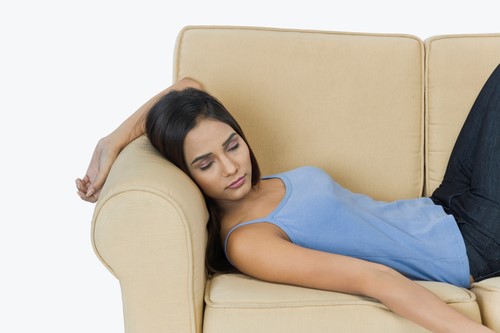 If you fall asleep on the sofa, with your head tilted forward, you are straining your neck. The neck strain causes muscles in the front of your neck to shorten, and the back of your neck to overstretched.
This position puts a strain on your cervical disks. As your cervical vertebrae are forced out of alignment they can cause pressure on your spinal cord.
Sleeping in your bed with your head propped up on a pillow will do the same thing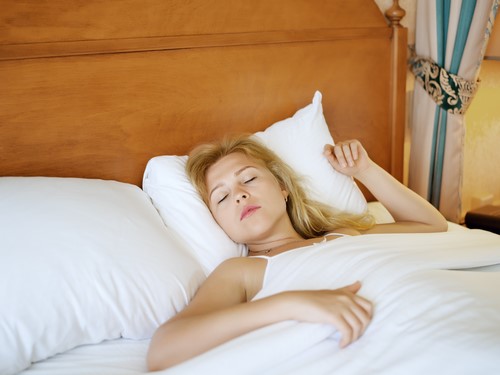 If you sleep on your back, your head should be on the mattress (not propped up with a pillow) because it will keep your spine straight. Or you could have a tiny support (like a folded washcloth) under your neck to support your cervical vertebrae. You can have a wedge pillow that starts at your mid-back and gently raises your entire trunk and head up while still allowing your head and back to be in a straight line.
Sleeping on your stomach is so problematic that it behooves you to force yourself to change your position. Let me know and I'll give you some suggestions that work to change your habit of sleeping. And watch this blog as I'll be writing about stomach sleeping in the near future. It takes time and energy, but the results are worth the effort.
It's worthwhile to look at how you're sleeping and adjust it so your head, neck, and spine are in a straight line.
It's also important to know that you can easily release the tension in all of your neck muscles. Even if you do sleep wrong one night, you can stop the pain before it gets out of hand.  If you want to learn how to do easy self-applied treatments to eliminate tinnitus and neck pain I suggest you get Treat Yourself to Pain-Free Living.