I hope you all had an active summer in sports and plan an equally active Fall. I'm happy to say that I've seen so many ways throughout the year that the Julstro Method has helped sports enthusiasts stay active – relieving their pain with our self-treatment method for many typical sports pain conditions. Whether it's runners, cyclists, tennis and golf enthusiasts, swimming or other sports, the Julstro Method can provide targeted treatments that with the start of October, it's got to the cause of the pain – releasing trigger points and myofascial tissue.
The Julstro Method techniques apply direct pressure on spasms, which relieves the inflammation and the resulting chronic pain. BUT, each sports pain and repetitive condition requires understanding about which muscle is causing the problem, and where the treatment needs to be targeted. That's where the Julstro Method comes in.
Over the last month, I've seen people with everything from neck pain and headaches to low back pain, sciatica, knee pain, and plantar fasciitis (a painful foot problem). These are typical of what many people are experiencing every day! The good news is once we figure out the source of the problem, the solution is generally simple to attain.
While we at Julstro always remind athletes that trigger point release is key to pain relief, we know it's also important to stay hydrated – to drink a lot of water. One way you can tell if you're dehydrated is when you see you aren't urinating during the day. Other signs are muscle cramps, muscle fatigue, performance, and coordination and energy decline. Lack of sufficient water can also cause headaches and have an impact on other brain functions, plus it will lead to a reduced level of endurance. This isn't only important for athletes, it's important for everyone!
Experts vary regarding the amount of water you should drink every day, but the consensus seems to agree that ½ gallon of water (8 – 8 oz glasses a day) is a good starting point. Drink more if you're doing something that causes you to sweat a lot. Eating fruit can be helpful. Using a sports drink can be good – but be sure it contains sodium, carbohydrates, and potassium.
Enjoy the last of the summer and the beautiful autumn weather. And, for those of us here in Florida, we're looking forward to the start of our best season – winter! I hope you'll come visit one day, and that you'll stop in to say hello 
Introducing The Pain-Free Athlete
In 2001 I wrote my first self-treatment book that was geared for athletes. The title was The Pain-Free Triathlete, because most of the people I was dealing with in my office, and online on my forum, were triathletes.
That book was loved by so many athletes, and I had many people tell me that it was there "go to bible" for treating sports injuries. How wonderful!
I recently met a woman at a networking meeting and when I told her what I did she asked me how I teach people to stop their own aches and pains. I mentioned The Pain-Free Triathlete to her and she jumped up and gave me a big hug! It turned out that both she and her boyfriend had prevented surgery because of that book. How exciting to hear that good news!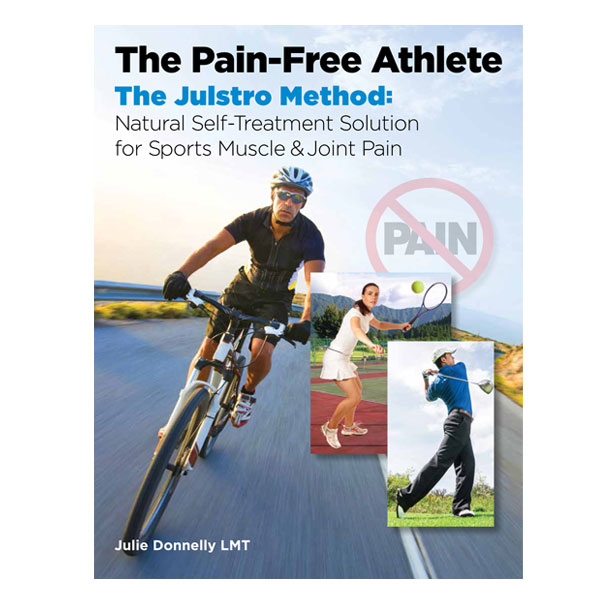 She convinced me to totally revise The Pain-Free Triathlete to reflect that I help all types of athletes. It was a big project, but it turned out so good that I am excited to share it with you.
The title is The Pain-Free Athlete, and just like its predecessor, it's filled with colorful charts to show you where to find the spasms and where those spasms refer pain (which is often far from the site of the spasm).
Plus, there are over 200 photographs that demonstrate how to do each of the Julstro Method techniques for aches and pains from your head to your feet.
I believe you'll love it as much as the athletes who have the original book. It's available on the store of the JulstroMethod.com website.
I hope that you are enjoying our new updated website. I'd love to hear from you.
Please let us know what you think and enjoy access to the information on the site.
Wishing you well,